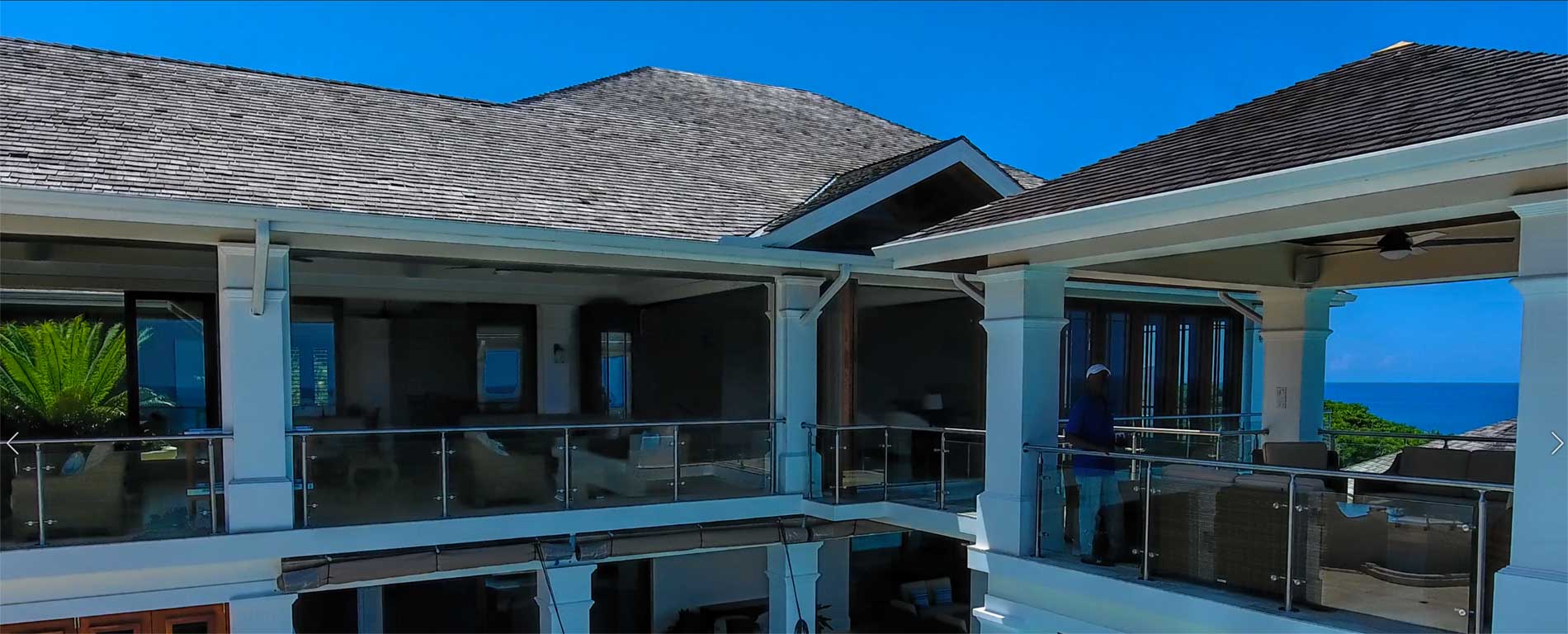 Our Living Spaces
dragonfly has so many wonderful entertainment spaces they can't fit on one page! To help you get a feel for the major areas, we have organized them into two sections:
The Upper Verandah [42' x 20']
A huge open space, blessed with panoramic views. It allows for dining for more than 14 and a separate seating area for a similarly sized group. This space is the heart of dragonfly and typically used for breakfast, hors d'oeuvres and dinner. In inclement weather, we have electric translucent hurricane grade screens that can lower, to buffer the wind and the rain. If a third of your time at dragonfly is in your luxury bedroom, a third in the pool area – a large part of the remainder will be here.
The Upper Bar [17' x 19']
The Upper Bar (as opposed to the Pool Bar), is a sports bar in the heart of your Villa! A 60" Ultra HD TV brings you the best of the NFL, the Premier League and every other major sport. Soft leather bar stools allow prime-time viewing, while Karisha whips up delicious cocktails behind the bar. Huge floor to ceiling glass doors open up onto the verandah, bringing the outside in, and a powerful Sonos powered music system can drive any beat you choose. When it's time to play, a large card table complete with chips and card decks allows you to sit back and enjoy – whether it's Rummy Cub with the kids or a Poker night with a single malt and a stogie.
The Upper Gazebo [14' x 14']
dragonfly has been carefully designed so that every space has exceptional views. The Upper Gazebo, a covered, outdoor space. has the best of the best views. A cozy, beautiful space for drinks and conversation, with sweeping sea views and a perched position to look down to the resort sized pool below.
The Living Room [34' x 23']
A huge indoor-outdoor space. The magnificent Living Room offers a wonderful space, with spectacular views, for the entire group to come together for drinks, snacks or just hanging out. The Hurricane Rated floor-to-ceiling bifold doors open completely to lead you onto balconies on the West and the North.
The Nook [10' x 10']
A small space on the upper level, designed for younger kids who want to be near their parents, but have an independent space to watch a movie or surf. Guests will also find the touchscreen 27" computer and printer a useful place to connect back to the office or family.
The Dining/Board Room [24' x 18']
A large indoor dining area that also doubles as a board room. It comfortably seats 14 on a huge, period styled, mahogany table. Sliding doors open out onto a magnificent panoramic vista. For large parties, between the Verandah, the Dining Room and the Bar (see above) nearly 40 guests can be entertained. When in boardroom mode, a large wall hung, framed TV ("the frame") provides Audio and Video conferencing facilities. Whether entertaining in style or driving your business agenda forward, the Dining Room is a spectacular space with spectacular views.