Things To Do
We have tried to create an an environment for our own multi-generational family - with activities for all ages and all lifestyles. Whether you seek a restful recharge, or active play. dragonfly is a place to entertain and be entertained. A place to escape work – or a place where work can be done. And of course a place to enjoy both casual and fine dining.

The Tryall resort offers wonderful and convenient high-end amenities - a Championship Golf Course, an exceptional tennis facility, a beautiful beach, dining and more. And yet, you will find yourself a homebody as dragonfly offers its own resort-within-a-resort...
dragonfly is nestled in a prime location at prestigious The Tryall Club. The Club is a magical, historic resort set on 2,200 acres of bewitching beauty. Rolling hills and valleys tumble down to one and a half miles of private shoreline.
The below is a brief excerpt about the activities available at the Tryall Club. The club provides a wealth of information about the club and its facilities at an excellent website, here.

an outstanding Golf Course
---
Rated as one of the Caribbean's finest, the Tryall golf course is both challenging and beautiful with a fascinating heritage. The Tryall course offers everything you could want from a 21st century course. Audubon certified since 2010 and complete with modern irrigation systems.
The private nature of the club means that the greens never get crowded, allowing you to play in peace and enjoy the surroundings.
Come and experience a world-class course that has challenged and delighted the likes of Nick Faldo and Ernie Els as well as most of golfs legendary players. Our guests also enjoy preferential 18 hole rates at the nearby Cinnamon Hill and White Witch courses.

world class tennis club
---
Tennis is a way of life at The Tryall Club and has been since the club opened in 1959. With facilities that are ranked amongst the finest in the Caribbean, there are nine courts, 24 pros, hitting partners and ball boys in season as well as exceptional training facilities and a reputation that draws world champions as well as world championships.
Conditions are perfect for playing year round. The four Agile Turf courts and five Nova Cushion hard courts offer advanced pro-grade surfaces that are synonymous with the world's best courts. The quality of the courts is matched by a spectacular setting atop a hill, cooled by offshore breezes and with wonderful views.
The Tennis Club offers one-on-one lessons, specialist clinics and lots of activities for children. Over the years many internationally acclaimed players have enjoyed our facilities such as Serena and Venus Williams, Jim Courier, Marion Bartoli, Boris Becker and Owen Davidson.

beautiful beach & water sports
---
Our secluded private beach offers both a relaxing oasis and access to a wide range of water sports. The dazzling waters of the Caribbean are one of the world's finest arenas for water activities and there are few who can resist the temptation of plunging into the warm azure waters of this magnificent ocean.
The beautiful beach at Tryall is a wonderful place to relax or enjoy the Caribbean sea, either swimming, snorkeling, paddle boarding, kayaking or sailing. Motorized sports, such as tubing and water skiing are also available at the beach (chargeable).

the great house
---
The 19th century Great House is at the heart of the Tryall Club as well as an important part of the Club's and Jamaica's heritage. Built in 1834, it commands a strategic position atop a hill with a beautiful oceanic panorama that extends from west to east.
Here you will find our reception and front desk, the guest services office and games room for children and teenagers. Each afternoon at four o'clock, complimentary afternoon tea is served on the veranda and terrace. This has been an established ritual at the Tryall Club since the 1930's when Ida DeLisser presided over the silver tea service refreshing the palates of visitors and holidaymakers.
The Great House Bar is a great place to meet for pre-dinner drinks. Whether inside or outside on the terrace there are fabulous views out to sea. A comprehensive range of cocktails is available as well as premium Jamaican rum including various vintages from the Appleton Estate and the incomparable Blackwell Rum with its hints of coconut and spice.

the beach restaurant
---
The Beach Restaurant and Bar is a delightful lunch and dinner venue offering a choice of indoor or outdoor seating. It is the perfect place to head to after a busy morning (on the beach, a deep sea fishing trip, a round of golf or energetic tennis match).
Sitting here, shaded by almond trees, affords a bird's eye view of the beach as well as the ocean with regular entertainment provided by diving pelicans and other sea birds.
During the evening, this is a lovely setting for dinner; moonlight on the ocean, the gentle lap and hiss of the waves and the balmy evening air.

theme nights
---
Our Beach Barbeque, held on the Almond Tree Lawn opposite our main beach is hosted seasonally on Mondays from 7.30 p.m. to 9.30 p.m. featuring live Jamaican entertainment and a tasty buffet. Prior to the barbeque, all guests are welcome to join the weekly Manager's Cocktail Party which is held on the Almond Tree Terrace adjacent to the lawn and overlooking the sea. In the summer months, our weekly cocktail party moves up to the Great House Terrace.
Reggae Night takes place on Thursdays from 7.00 p.m. to 9.30 p.m. on the lawn behind the quiet beach with a Jamaican inspired buffet and the Reggae music for which Jamaica is renowned and enormously popular crab racing - a sport which not only engages children but adults as well.

wellness & fitness
---
Our 2,200 acres are ideal for early morning or late afternoon jogs together with treks into the hilly interior to work and stretch leg muscles.
We have a well-equipped ocean-facing gym which is conveniently located next door to the Tennis Pro Shop close by the Great House. Yoga is a popular pursuit for many of our guests and In addition to the deck outside the gym there are numerous other locations to choose from.
For fun with family and friends we offer basketball, football and volleyball and for those who prefer a gentler form of exercise, croquet on the lawn is the perfect answer.
Located close to the Great House is the Beauty Salon. A comprehensive range of hair and beauty treatments are available here together with massage therapies. The Salon also conducts residential body treatments at dragonfly by appointment.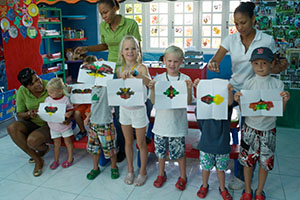 kid's club
---
Located next to the Tennis Pro Shop, the Kid's Club welcomes children from the ages of five and twelve years to be part of the Kid's Club Programme. Selected activities are also available to toddlers who are accompanied by babysitters.
The numerous activities available include beach games, arts and crafts, face painting, scavenger hunt, sand castle competitions and the art of tie-dye.
A comprehensive babysitting service is also available which should be booked at least 24 hours in advance. We are also able to provide nanny service. All of our nannies are certified in child care by Penn State.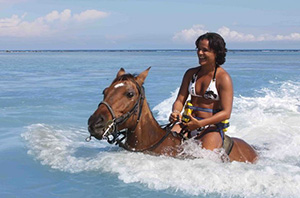 tours & attractions
---
There are lots of wonderful excursions that can be booked through Tryall, as well as excursions within Tryall itself. Whether you want to do an early morning hike at Tryall or book an outing to Mayfield Falls, the Guest Services Department will help you.
There are a large selection of options, from ATV safari's, Bamboo rafting, swimming with Dolphins, deep sea fishing, catamaran cruises, wading through waterfalls and so much more. A longer (but still partial) list is available on the Tryall website,
here
.